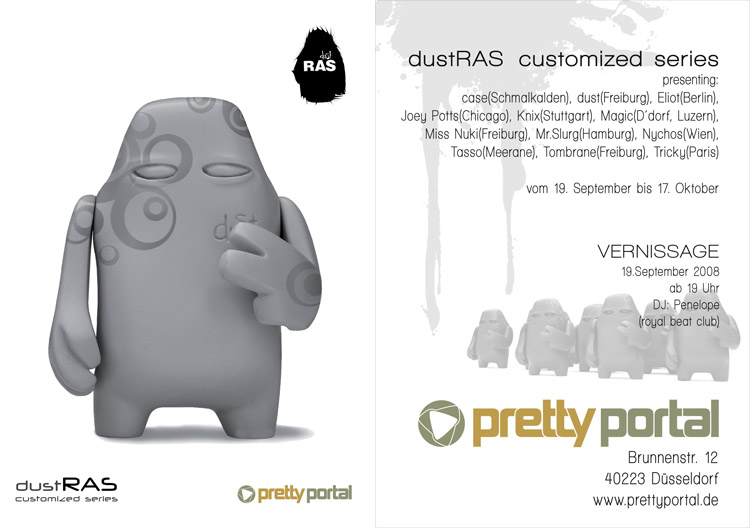 The Streertartist dust, creator of the designtoy RAS,  inspired 12 international artists to customize his RAS.
For this collaboration he found artists like case(maclaim/Schmalkalden), Eliot(Berlin), Joey Potts(Chicago), Knix(stuttgart), Magic(D´dorf, Luzern), Miss Nuki(Freiburg), Mr. Slurg(Hamburg), Nychos(Wien), Tasso(maclaim, Meerane) Tombrane(Freiburg) and Tricky(Paris).
Most of the artists also created a canvas that fits to the customized character.
All customized toys and the canvases can be seen in one exhibition at the gallery Pretty Portal in Düsseldorf in September/ October.
RAS customized Series
Exhibition: 19.09. – 17.10.2008
vernissage: 19.09.2008 19h – 23h
case(maclaim/Schmalkalden), dust (Freiburg), Eliot(Berlin), Joey Potts(Chicago), Knix(stuttgart), Magic(D´dorf, Luzern), Miss Nuki(Freiburg), Mr. Slurg(Hamburg), Nychos(Wien), Tasso(maclaim, Meerane) Tombrane(Freiburg) and Tricky(Paris)
Music by DJ Penelope (version)
Gallery Pretty Portal
Brunnenstr. 12
40223 Düsseldorf
http://www.prettyportal.de
More info about dust:
dirtydust.de
myspace/dust-art